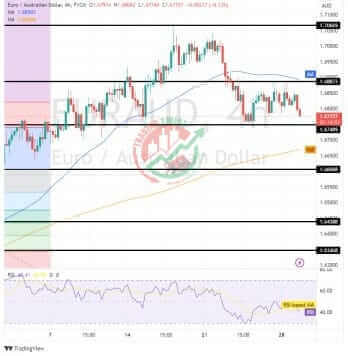 EURAUD Chart Technical Outlook set to bounce on monetary policy divergence, worries about China, 1.6887 eyed.
The European Central Bank is keeping its options open about raising rates, while the Reserve Bank of Australia is unlikely to do so – even under its new management.
Incoming RBA Governor Michelle Bullock is set to speak later, and she will likely maintain the tone of Phillip Lowe, the outgoing governor. With China only settling for limited stimulus, there is no reason for the Aussie to rise, except for riding alongside US stocks.
I see the current retreat as a correction, and the next move to be up. Resistance is at 1.6887, which is also where the 4h-50 SMA hits the price. It is followed by 1.7066. Support is at the recent low of 1.5748, a double-bottom, and then 1.6606.