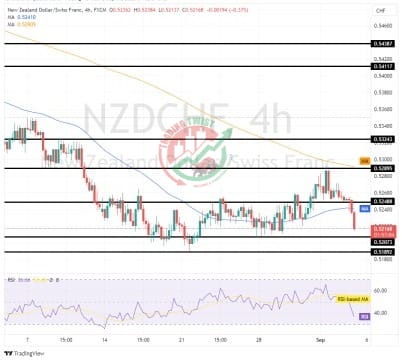 NZDCHF Chart Technical Outlook falls as market mood worsens, set to resume gains later on, 0.5248
Even before US traders wake up, their upcoming return from the long weekend is stirring markets. Investors see the glass half-empty – a weak Chinese PMI, rather than the fact that Country Garden, a big developer, escaped a default.
The current dark mood is weighing on the New Zealand Dollar, a risky currency, and is more favorable to the Swiss Franc, a stable currency.
However, I expect things to improve later on, as the general picture of the US economy, the world´s largest is good – ongoing growth and inflation falling.
NZD/CHF has support at 0.5207, followed by 0.5189. resistance is at 0.5248, followed by 0.5289, where the 4h-200 SMA hits the price.