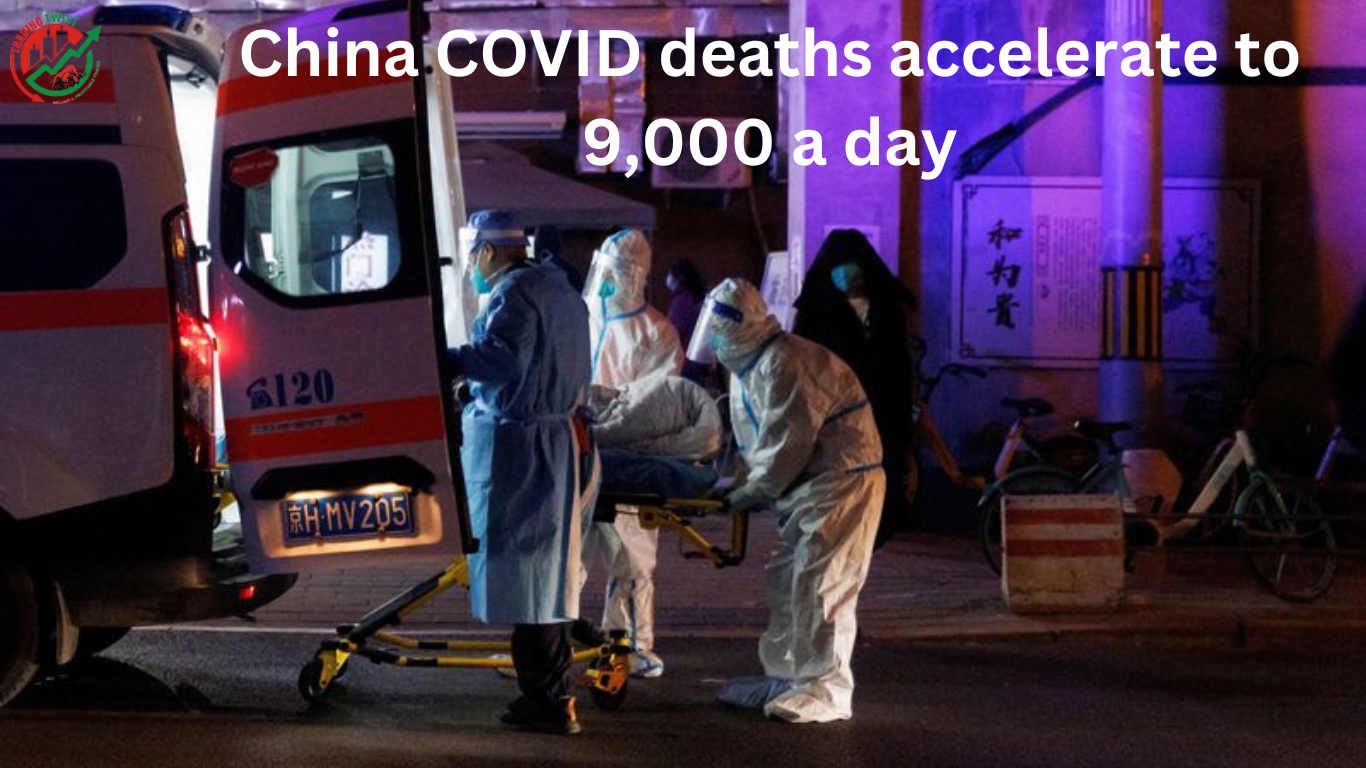 China COVID deaths accelerate to 9,000 a day – UK research firm Airfinity
DECEMBER 29 (Reuters) – According to UK-based health data company Airfinity, an estimated 9,000 people in China are probably dying from COVID-19 every day, more than double its previous estimate from a week ago as infections ravaged the country with the largest population.
Following Beijing's dismantling of its zero-COVID measures, which included routine PCR testing on its population and the disclosure of statistics on asymptomatic cases, COVID infections began to spread rapidly across China in November and have accelerated this month.
According to a statement from Airfinity, there have likely been 100,000 deaths and 18.6 million illnesses in China as of December 1. It claims to apply modeling based on data from Chinese provinces collected prior to the implementation of the most recent revisions to reporting cases.
China's COVID infections are anticipated to reach their first peak on January 13 with 3.7 million cases per day, according to Airfinity.
Contrast that with the thousands of cases that are reported by health officials every day, following the large dismantling of a national network of PCR test facilities as authorities shifted their focus from preventing infections to treating them.
China's official COVID death toll as of December 28 was 5,246 since the pandemic's inception in 2020.
According to a statement from Airfinity, 1.7 million deaths are anticipated in China by the end of April.
Its website states that it created "the first dedicated COVID-19 health analytics and intelligence platform" in 2020.
The Chinese Center for Disease Control and Prevention is planning to measure fatalities differently, according to the country's top epidemiologist Wu Zunyou, who stated this on Thursday.
Wu informed reporters at a conference that the team would compare the number of fatalities from the most recent wave of illnesses to the number of fatalities anticipated in the absence of the epidemic.
China would be able to determine what would have been possibly overestimated by measuring the so-called "excess mortality," Wu said.
Officials in various cities estimate that hundreds of thousands of individuals have become sick in recent weeks, despite the fact that the nation's National Health Commission has stopped publishing daily case data. Across the nation, hospitals and crematoriums are at capacity.
Other countries and specialists worry that China may become a breeding ground for new strains of the virus now that it can spread among about one-fifth of the world's population, almost all of whom lack immunity from prior infection and many of whom are still unvaccinated.
According to AFP, each new infection raised the likelihood that the virus would evolve, according to Antoine Flahault, director of the Institute of Global Health at the University of Geneva.
In reference to the virus that causes COVID-19, Flahault noted, "The fact that 1.4 billion people are suddenly exposed to SARS-CoV-2 definitely generates conditions prone to developing variations."
This week, Bruno Lina, a professor of virology at Lyon University in France, told the La Croix newspaper that China might turn into a "possible breeding ground for the virus."
Soumya Swaminathan, who until November was the head scientist for the World Health Organization, stated that a significant portion of the Chinese population was susceptible to illness in part because many older individuals had not received vaccinations or boosters.
The website of the Indian Express newspaper quoted her as saying, "We need to keep a close eye on any emerging worrying mutations."
Countries test Chinese travelers
The United States, Italy, Japan, India, and Malaysia declared this week that they will tighten health requirements for visitors from China in reaction to the rising instances.
According to US officials, it is becoming "increasingly difficult for public health officials to ensure that they would be able to identify any potential new variants and take quick action to restrict the spread" due to China's lack of transparent data, particularly about viral genomic sequencing.
India and Japan have already declared that all travelers from China will be subject to mandatory PCR testing; Flahault suggested that this move may be a workaround for any information delays from Beijing.
If we are successful in sampling and sequencing all viruses found in travelers arriving from China, he said, "we will be able to identify novel variants nearly as soon as they develop and propagate" in the nation.
Variant 'soup'
According to Xu Wenbo, director of the virus control institute at China's Center for Disease Control and Prevention, hospitals across the country will collect patient samples and upload the sequencing data to a new national database, enabling officials to track potential new strains in real-time.
The specialist went on to say that any strains that are more contagious than the ones that were previously common, such as BQ.1, B2.75.2, XBB, CH.1, or BF.7, are certain hazards since they have the ability to start new waves.
To our knowledge, none of these current mutations appear to show any distinguishing new risks of more severe symptoms, however, it is likely that there will be additional variants in the future.
He told the media that over the past three years, more than 130 new Omicron sublineages have been discovered in China.
These included the XXB and BQ.1 sublineages, which have recently been expanding in the US and several parts of Europe as a swarm of subvariants has battled for dominance on a global scale.
However, Xu noted that BA.5.2 and BF.7 continue to be the primary Omicron strains identified in China and that the many sublineages would probably coexist.
Flahault asserted that more than five hundred new Omicron subvariants had lately been identified, however it was usually unclear where each subvariant had first appeared.