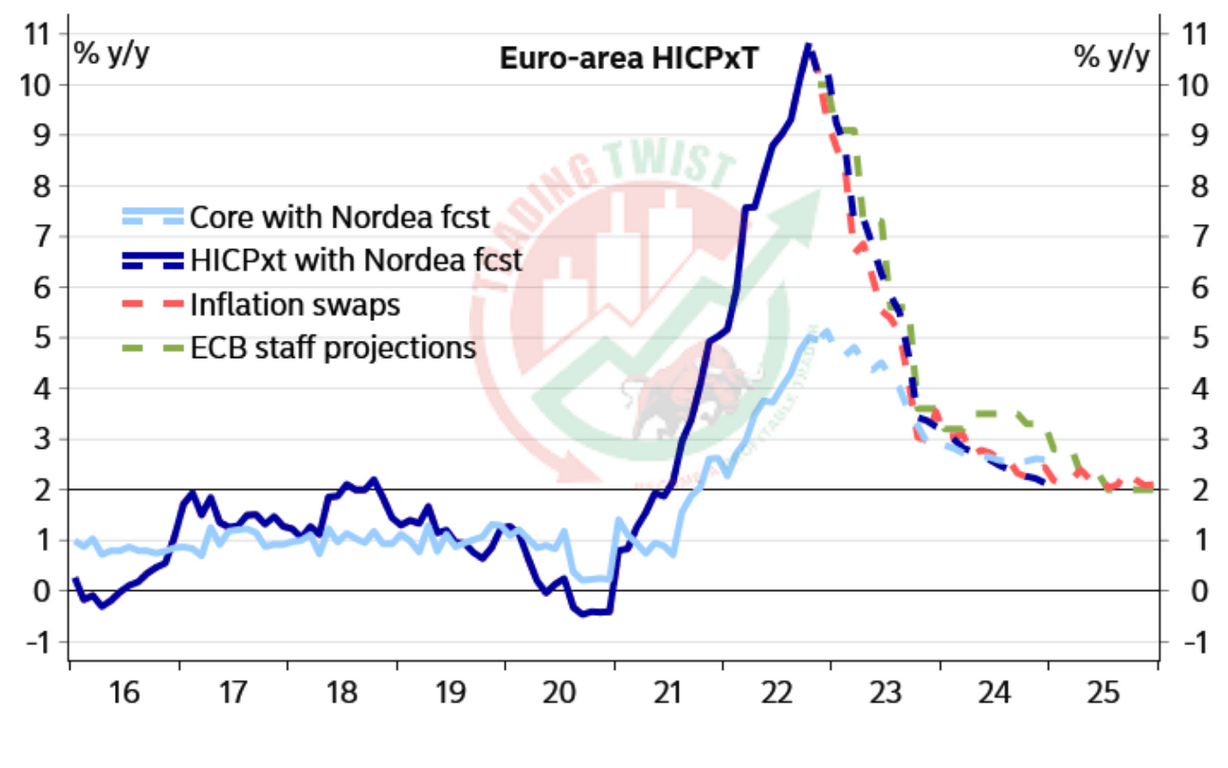 Euro-regional flash From 10.1% y/y in November to 9.2% y/y in December, inflation decreased. Following the announcements from the biggest economies in the Euro area, expectations have decreased during the week, but it is still clearly lower than anticipated a few weeks ago.
In December, core inflation increased slightly from 5.0% y/y in November to 5.2% y/y. Non-Energy Industrial Goods (NEIG) and services, which are issued with the flash measure, both increased.
Energy costs, particularly the German gas, heating, and electricity price relief that consumers and SMEs received in December, account for a sizeable portion of the decline. It was unclear if it would be seen as lower prices and included in the inflation statistics, or as fiscal transfers and excluded from the statistics. Additionally, energy costs decreased the rates of inflation in France and Italy in December, and market prices for gas and electricity have decreased significantly.
In the January inflation print, ECB President Lagarde issued a warning about the delayed pass-through of gas and electricity price rises; nonetheless, barring further increases in energy prices, momentum has likely changed and inflation will begin to decline gradually in 2023. Once more, the momentum changed when the US CPI momentum changed slightly.
The pace of the inflation decline in the first half of the year and the underlying persistence in core inflation is now likely to receive more attention than the magnitude and timing of the inflation peak.
Markets are presently pricing September '23 inflation at less than 5%. Lower food and energy costs could hasten the decline, while higher costs could hasten the decline.
It is also probable that core inflation will decline. According to estimates from the ECB, the expense of higher energy prices has dramatically increased the price of numerous essential goods and services. Although these prices might be more stable and less likely to decrease again, the rate of growth should reduce. We think the ECB will focus more on the labour market and wage growth when deciding the appropriate peak policy rate because there is a lot of "noise" in core inflation.
The ECB has proposed two consecutive 50 bp rate increases in February and March as a starting point. The indications regarding subsequent rate hikes will probably be based on new staff predictions for inflation, which will be presented at the March meeting.