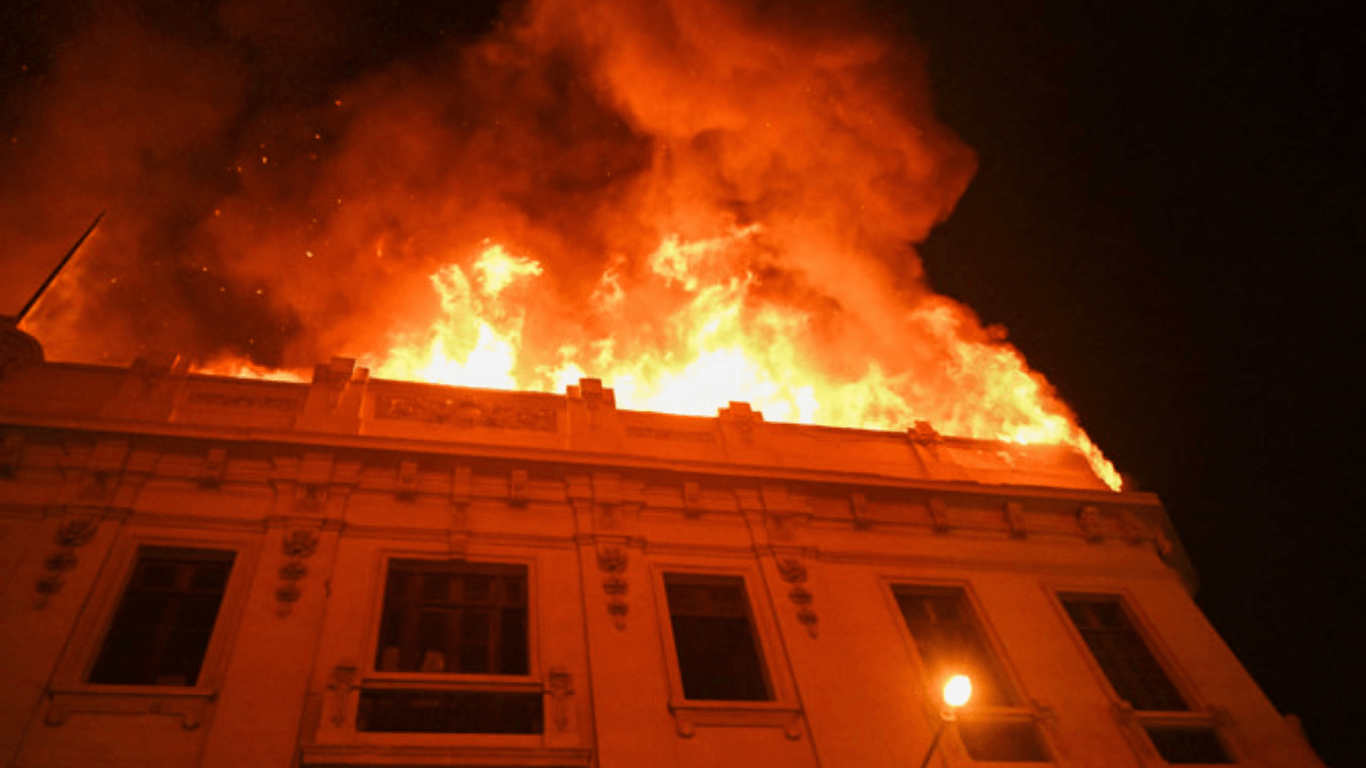 On Thursday, thousands of Peru demonstrators, many of them from the country's south, which is mainly indigenous, poured into Lima, the capital, angry at the rising death toll since unrest began last month and demanding radical change.
Others believe the march attracted more than twice as many people as the 3,500 police thought it did.
On other streets, rows of riot-clad police clashed with protestors who were throwing rocks, and late on Thursday, a historic structure in the city's historic district caught fire.
According to a fireman captain, the building on San Martin Plaza was vacant when the enormous fire broke out and started for unclear reasons.
In a statement, Canadian mining company Hudbay said that demonstrators had infiltrated the Peru location of its operation and had damaged and set ablaze important trucks and gear.
Along with President Dina Boluarte and other government ministers, Prime Minister Alberto Otarola declared Thursday night that "this has not been a protest; this has been a sabotage of the rule of law."
Vicente Romero, the interior minister, refuted rumors making the rounds on social media that a police officer's tear gas grenade was to blame for the fire in Lima.
As people in poorer, rural districts express their resentment at the Lima establishment over inequality and rising costs, loud and occasionally murderous protests have resulted in the worst violence Peru has seen in more than two decades, challenging the copper-rich Andean nation's democratic institutions.
Boluarte's resignation, early elections, and a new constitution to replace the market-friendly one from the 1990s, when right-wing strongman Alberto Fujimori ruled, are all demands of protesters.
Jose De la Rosa, a protester, predicted that the street demonstrations will only intensify: "We want usurper Dina Boluarte to stand down and ask for new elections."
The demonstrations started after Pedro Castillo, a Marxist former president, was abruptly removed from office on December 7 after attempting to shut down Congress and consolidate control.
On Thursday, thousands travelled to Lima by bus and foot while holding flags and banners denouncing the police and administration for violent conflicts in the southern cities of Ayacucho and Juliaca.
Outside of the capital, the rioting was widespread.
Authorities in southern Arequipa announced the suspension of operations at the Arequipa and Cusco airports after police used tear gas on hundreds of protesters who attempted to take over the airport, as seen on local television.
On Thursday night, Boluarte said that the airports, including one in the southern city of Juliaca, had been attacked "conspired."
All legal rigor will be used to individuals who committed vandalism, Boluarte stated.
According to the government ombudsman, there have already been 45 fatalities. The most recent victim, a woman from the southern Puno region, died on Thursday from injuries sustained the day before. Accidents connected to protest blockades are blamed for nine further fatalities.
CONDITION OF EMERGENCY
According to transportation officials, road blockades were observed across the nation in 18 of the country's 25 regions, demonstrating the protests' breadth.
Political leaders urged calm while police strengthened their surveillance of the routes leading into Lima.
Last week, the troubled Boluarte administration prolonged a state of emergency that restricted some civil liberties in Lima and the southern regions of Puno and Cusco.
Boluarte claimed that everything was "under control" in the nation. She requested a conversation.
Even while protester banners brand her a "murderer" and refer to the fatalities by security forces as "massacres," the president has called for "pardon" for the protest deaths. She has refused requests to resign.
Human rights organizations claim that the police and soldiers used lethal weapons during the protests. According to the police, the demonstrators have utilized explosives and guns.
One protester coming to Lima remarked, "We won't forget the anguish the police have caused in the community of Juliaca." She was referring to the location of this month's, particularly deadly demonstration. "We — men, women, and kids — must fight."
Other demonstrators cited tactical justifications for attacking the seaside capital.
Domingo Cueva, a protester who had come from Cusco, stated, "We want to focus our movement here in Lima, the heart of Peru, to see if they are moved.
We have seen more repressions everywhere, he continued.