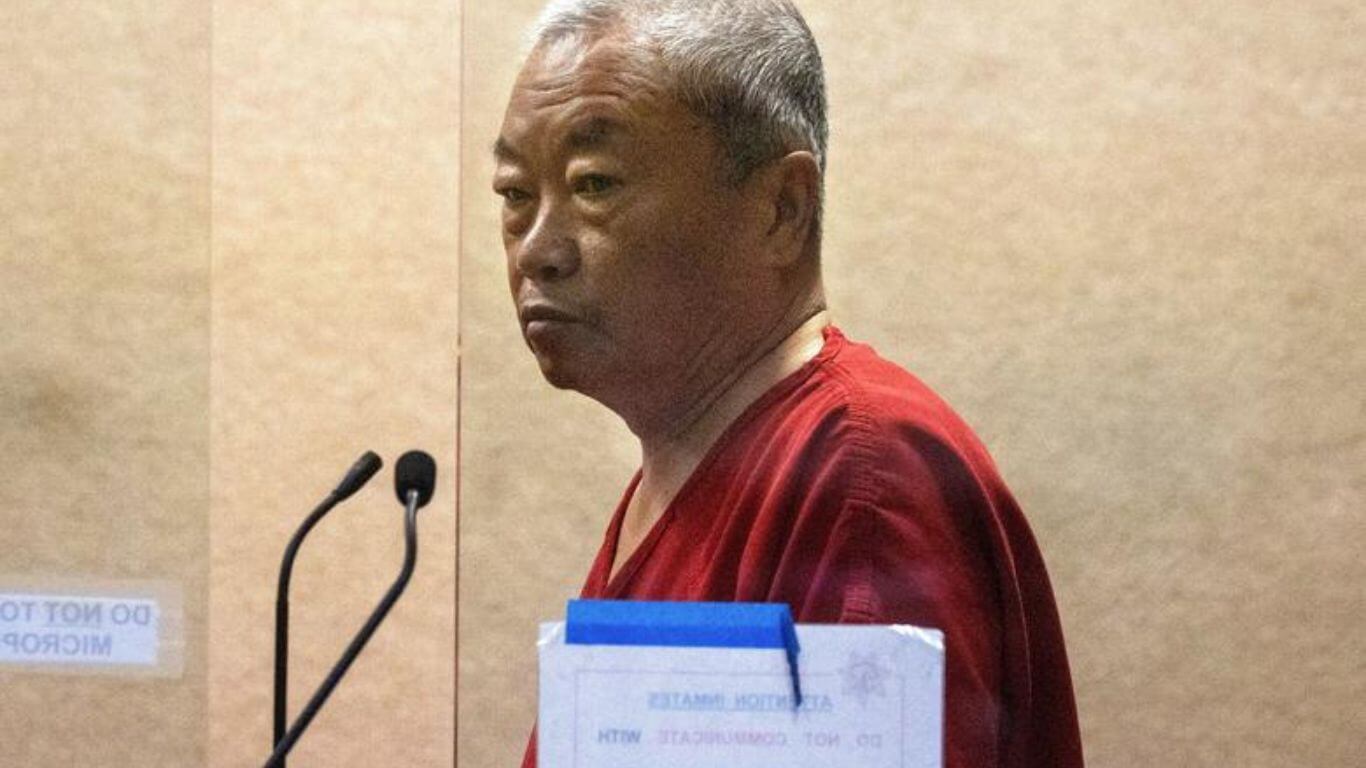 In connection with the murder of seven coworkers near San Francisco on Wednesday, an undocumented farm worker was formally charged with premeditated murder. This was the second deadly shooting rampage in the state in as many days, with a total death toll of 18.
During his initial court appearance in nearby Redwood City, Chunli Zhao, 66, a Chinese national and the only suspect in Monday's slaughter at two mushroom farms in the seaside hamlet of Half Moon Bay, was formally charged with seven charges of murder and one count of attempted murder.
Zhao was confined behind a glass panel and dressed in red jail attire as a San Mateo County Superior Court judge issued a brief ruling ordering him to be kept without bond. Throughout the hearing, the chubby defendant with close-cropped grey hair remained expressionless. He had two private defense attorneys, but no plea was taken.
The case's next court appearance was scheduled for February 16.
The defendant, a Chinese national who has lived in the country for at least ten years, according to District Attorney Steve Wagstaffe, was given a Mandarin-speaking interpreter.
Zhao's specific immigration status and legality of entry into the nation have not yet been determined by prosecutors, Wagstaffe said to reporters outside the courthouse after the hearing.
The prosecutor claimed that although she would not provide specifics, officials do have some knowledge of the suspect's motivations. Wagstaffe also disclosed the existence of one intriguing hint, claiming that Zhao's car contained a message, though he would not explain what it read.
Zhao was "cooperative" with the sheriff's investigators who originally questioned him after his detention using a Mandarin interpreter and without a counsel present, according to the district attorney, and he provided "a comprehensive statement."
However, as the case develops, it is anticipated that Zhao will plead not guilty; "and we want to make sure this man receives a fair trial," Wagstaffe added.
The 10-page criminal complaint includes eight felony counts in addition to "special circumstances," which accuse Zhao of "personally and intentionally" firing to kill.
Although Governor Gavin Newsom halted executions in 2019, under California law, prisoners convicted of murder under "exceptional circumstances" may be eligible for the death penalty. Since 2006, the state has not executed a condemned prisoner.
Otherwise, Wagstaffe explained, the harshest punishment is life in jail without the chance of parole.
California-born U.S. Vice President Kamala Harris landed in Los Angeles to pay a visit to the Monterey Park neighborhood of that city, the scene of the first of the recent fatal rampages. She was scheduled to meet with some of the families of the 11 victims of the Saturday night shooting in a dance club by a guy who later killed himself.
I AM NOT A "COPY CAT"
The two massacres, which occurred within a short period of time, caused the state of California—which has some of the tightest gun restrictions in the nation—to experience one of the deadliest outbursts of widespread gun violence in recent memory.
According to authorities, each of the two killing sprees resulted in the most fatalities from a single act of violence in the counties of Los Angeles and San Mateo.
When asked if they thought the murders in Half Moon Bay were a "copycat" crime motivated by the shooting spree in Monterey Park two days prior, Wagstaffe answered categorically, "No."
After the attack on the farm worker, Zhao is believed to have driven to a sheriff's office, where he was apprehended on Monday evening.
Uncertainty lingered over the shooting's actual motivation. According to California Terra Gardens, the owner of the farm, Zhao had lived on the property with a few other employees while working at one of the producers, Mountain Mushroom Farm.
Authorities stated that preliminary information suggested a workplace complaint was the cause of the killing. It takes roughly a mile to get to the second crime scene, Concord Farms.
In a CNN interview, sheriff Christina Corpus claimed that the shooter "went for and sought" particular victims despite having the opportunity to harm others and that he was a "coworker or former coworker" of the victims at both shooting locations.
Before Monday's tragedy, she claimed, law enforcement was unaware of Zhao. Zhao, according to reports from CNN and other media outlets, was the target of a temporary restraining order after a former coworker accused him of assault and threatening behavior in 2013.
The 12,000-person town of Half Moon Bay, located south of San Francisco, is home to both a high-end resort and a low-income farming neighborhood. The killing brought to light the struggles faced by the region's farm workers, many immigrants from Latin America and Asia who frequently reside in filthy labor camps while working long hours in appalling conditions for extremely meager compensation.
The murders took place two days after a shooter in Monterey Park, California, opened fire at the Star Ballroom Dance Studio, a club primarily frequented by older people of Asian heritage.
Nine others were hurt in the gunshots on Saturday night in addition to the 11 fatalities.
Tran was a well-known Star Ballroom regular, albeit his motivation was still unknown. A resident of the Los Angeles rental home he owned speculated that Tran might have harbored resentment toward other tenants.
Both shootings were significant because the suspects were older than was customary for the tragic mass shooting that have become all too regular in the US.
Authorities reported that both shooters used a semi-automatic weapon and that the victims in both incidents were from immigrant populations.