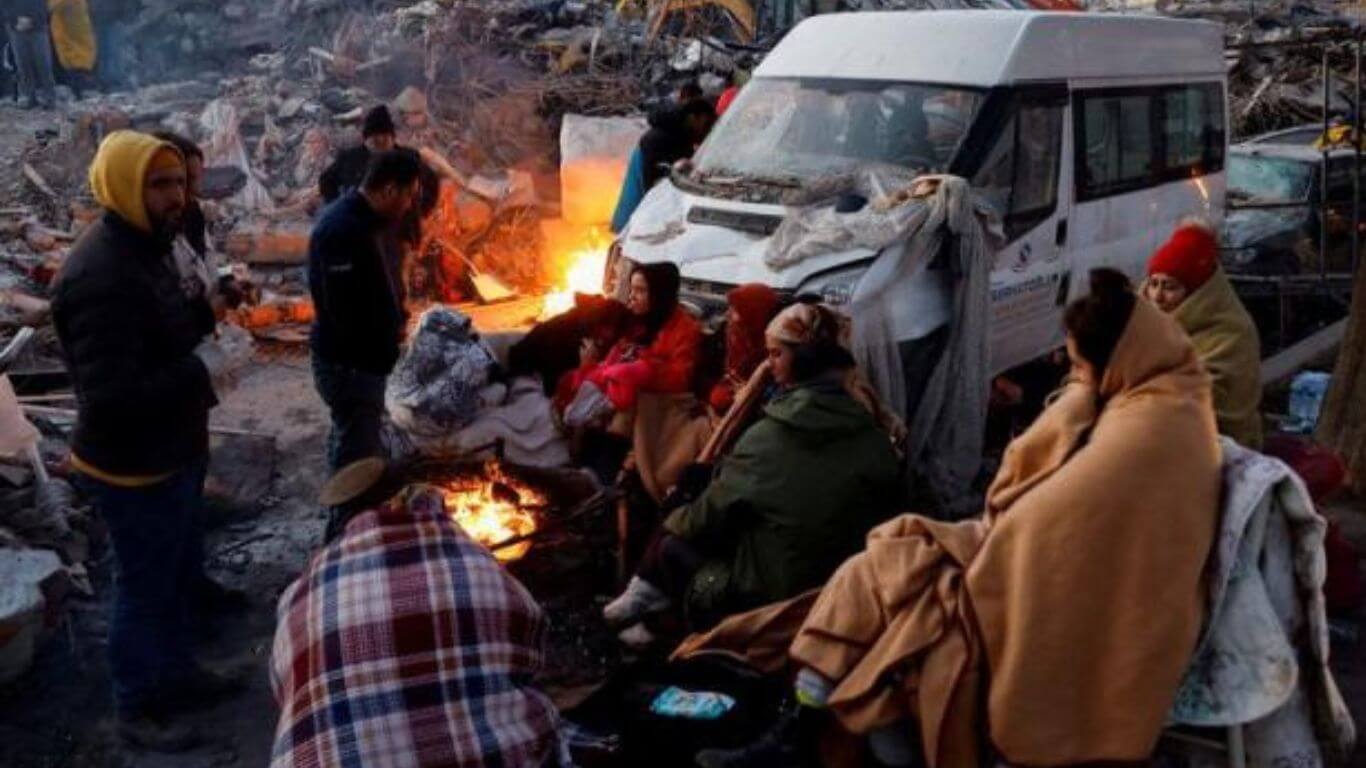 On Thursday, the number of fatalities from the earthquake that occurred in Turkey and Syria this week topped 15,000 amid rage and frustration from individuals who were left without anything.
On a visit to the disaster area on Wednesday, Turkish President Tayyip Erdogan, who is running for office in May, declared that operations were now running properly and pledged that no one would be left without a place to live.
People searched for temporary shelter and food in the bitterly cold winter weather while waiting in agony among piles of debris where loved ones might still be buried.
The Disaster Management Authority reported that as of Thursday morning, 12,391 deaths had been officially recorded across Turkey, an increase of more than 30% over Wednesday's total.
Rescuers continued to discover several survivors. However, many Turks have lamented the lack of resources, know-how, and assistance for the rescue of people who are stranded, sometimes even while they could hear screams for assistance.
"What state is it? They've been gone for two days, but where? We are pleading with them. Let's do it; we can remove them "In the city of Malatya, close to a fallen structure blanketed in the snow where her young family was imprisoned, Sabiha Alinak stated on Wednesday.
Similar incidents and complaints were reported in Syria, which is next door. In Syria, whose north was severely affected by Monday's massive earthquake, at least 2,950 people had died by Wednesday, according to the government and a rescue group working in the rebel-held northwest.
The Syrian envoy to the UN acknowledged that the government lacked "capabilities and equipment," and he blamed Western sanctions and Syria's more than ten-year civil conflict.
The number of fatalities in both countries was predicted to climb due to the fact that many towns' hundreds of destroyed buildings have served as graves for people who were asleep when the earthquake struck.
Dozens of victims were arranged in a line on the ground in front of a hospital in the Turkish city of Antakya, some wrapped in blankets and sheets and others in body bags.
The 64-year-old Melek lamented the lack of rescue teams. "We survived the earthquake, but we'll perish from the cold or starvation here."
Many people in the disaster area slept in their cars or on the cold, frozen streets under blankets out of fear of returning to their homes and buildings. that had been shaken by the 7.8 magnitude earthquake, Turkey's deadliest since 1999, and by a second, more powerful earthquake that occurred hours later.
Turkish authorities shared a video of the survivors who were recovered from the rubble. including a small child wearing pajamas and an older guy. who was covered in dust and holding an unlit cigarette in his fingers.
According to Turkish officials, 13.5 million people were impacted over a 450 km (280 mi) stretch from Adana in the west to Diyarbakir in the east. People were slain in Syria 250 kilometers to the south in Hama.
Some of those who perished in Turkey were war refugees from Syria. In order to be transported to last resting sites in their country of origin, their corpse bags arrived at the border in taxis, vans, and stacked atop flatbed trucks.
In areas under government control and not occupied by opposition factions. Syrian state television said that more than 298,000 people had been rendered homeless and that 180 shelters for the displaced had opened.
Relief operations in Syria are made more difficult by a conflict that has divided the country and destroyed its infrastructure.
U.N. officials said the long-running operation, which had been suspended by the earthquake. might begin on Thursday to provide humanitarian aid to millions of people in northwest Syria via Turkey.
IMPACT OF ELECTION
Erdogan visited Kahramanmaras on Wednesday to see the damage and observe the rescue and relief effort after announcing a state of emergency in 10 provinces and dispatching troops to assist.
He told reporters that there had been issues with the roads and airports, but that "we are better today" while the sound of ambulance sirens wailed in the background.
"We'll improve later today and tomorrow. We still face some fuel-related challenges, but we will also resolve them "Turkey remarked.
Nevertheless, the catastrophe will present Erdogan with a challenge in the May election, which was always expected to be the most difficult contest of his 20 years in power.
Any idea that the administration is not effectively handling the tragedy could be detrimental to his ambitions. Analysts contend that, on the other hand, he might improve his position by mobilizing national support for the crisis response.
As the public had begun to "rely on the service" in the wake of the accident, Twitter was blocked in Turkey on Wednesday, according to the Netblocks internet observatory.
Elon Musk, the CEO of Twitter, later tweeted that the Turkish government had notified the business that full access to the social media network would be restored "shortly."
Yaman Akdeniz, a specialist in cyber rights and a lecturer at Istanbul Bilgi University, said it was unclear what led to the restriction and added that access to TikTok was also restricted in Turkey.
There was no one available to comment from the Transportation and Infrastructure Ministry, which may impose such limitations.