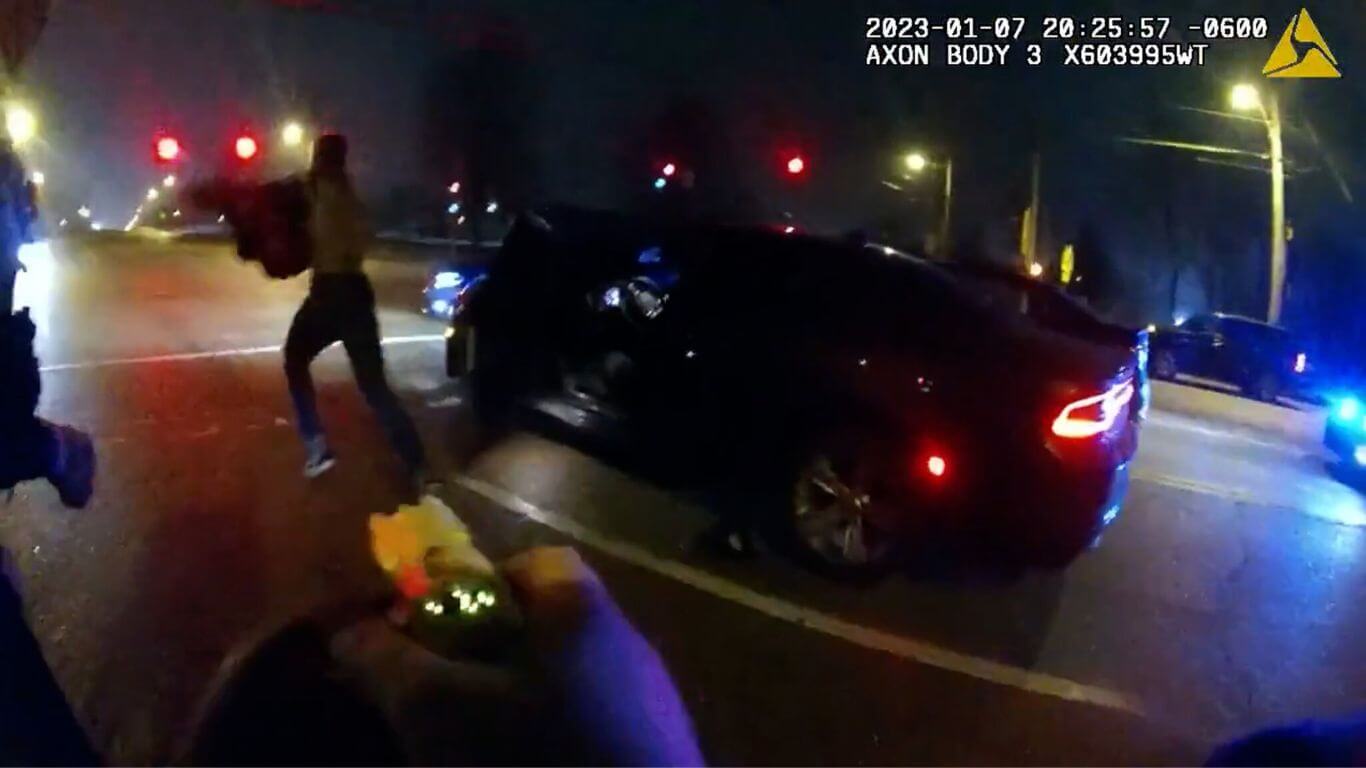 In a violent video the city published on Friday, Tyre Nichols, a Black motorist stopped by Memphis police officers earlier this month, is seen being beaten into submission while wailing "Mom, mom," as five police officers ultimately charged with his murder deliver kicks, punches, and baton blows.
A day after the five were charged with second-degree murder, assault, kidnapping, official misconduct, and oppression in the death of Nichols, age 29, on January 10, footage from police body-worn cameras and another installed on a utility pole was made available online.
Together, the four videotapes show an extremely violent escalation of violence against a driver who was initially stopped for allegedly driving recklessly, however, the police chief later clarified that this claim was unfounded.
The beatings appear to have continued well past the point at which Nichols might have posed a threat to the police, and at one point two cops held him upright while another repeatedly punched him in the face, with other officers present on the scene watching passively and doing nothing.
In the first video, officers remove Nichols from his car as he cries, "Damn, I didn't do anything… I'm just trying to get home." They then force him to the ground while telling him to lie on his stomach and pepper spraying him in the face.
Then Nichols escapes, struggles to his feet, and races away down a road while being pursued by officers on foot, at least one of whom fires a stun gun at him.
Another video captures the subsequent battle that occurs when the police finally catch up to Nichols. He is being held down by two officers as a third kicks him, a fourth strikes him with what seems to be a baton, and a fifth officer hits Nichols.
As he battles with the officers, Nichols is heard yelling, "Mom! Mom!" over and over. According to his mother, her son was only a few hundred yards (or meters) from his house when he was assaulted. 19 minutes after the initial arrival of emergency medical professionals, a stretcher is observed coming.
Following their Jan. 7 altercation with Nichols following the traffic stop, the officers—all of whom were Black—had already been fired from the police force on Jan. 20. While at the hospital, he succumbed to his wounds and passed away three days later.
While pleading for calm, Memphis police officers' family who watched the tape with his family before it was made public warned that the scenes were violent and likely to incite indignation.
Davis told CNN that viewers would witness "acts that defy humanity" in the video.
Ben Crump, a civil rights lawyer who represents the family of Nichols, demanded earlier in the day that the city police department dissolve its SCORPIONS unit, which is tasked with combating violent street crime and to which at least some of the officers involved were assigned.
Tyre Nichols' mother, RowVaughn Wells, said on Friday, "No mother should go through what I am going through right now, no mother, to lose their child to the horrible way that I lost my child."
After viewing the Memphis police officers video, U.S. President Joe Biden declared that he was "outraged" and "very pained."
In Memphis, a city of 628,000 people where approximately 65% of the population is Black, Nichols' family and Biden made an appeal for the protests to be peaceful. Events scheduled for Saturday morning were postponed and schools closed early.
The White House reported that on Friday afternoon, Biden spoke with Nichols' stepfather Rodney Wells and his son RowVaughn Wells to offer his sympathies.
With the passing of Nichols, police officers have recently been accused of using excessive force in the fatal shootings of Black people and other minorities.
Following the May 2020 murder of George Floyd, a Black man who passed away after white Memphis police officers knelt on his neck for more than nine minutes, protests against racial injustice under the name of the "Black Lives Matter" movement erupted nationwide.
In an interview with National Public Radio on Friday, Antonio Romanucci, another attorney representing the Nichols family, said that Nichols was a fervent supporter of the Black Lives Matter movement and "essentially died for his own cause."
The killing of Nichols would be the subject of a federal civil rights inquiry, according to U.S. Attorney General Merrick Garland, who also indicated that certain large cities' law enforcement agencies were ready for potential unrest. Following the release of the video, protests were held in a number of locations, including New York, Atlanta, and Washington, but they seemed to be calm.
Police have provided only generalized details regarding Nichols' arrest. Police chief Davis stated that her agency has not yet been able to establish whether there was a good reason for Nichols to be stopped for driving recklessly.
Records reveal that after being brought into Shelby County Jail on Thursday morning, Justin Smith, Desmond Mills Jr., Emmitt Martin III, Demetrius Haley, and Tadarrius Bean—who were fired along with one other officer following Nichols' death—were freed on bond.