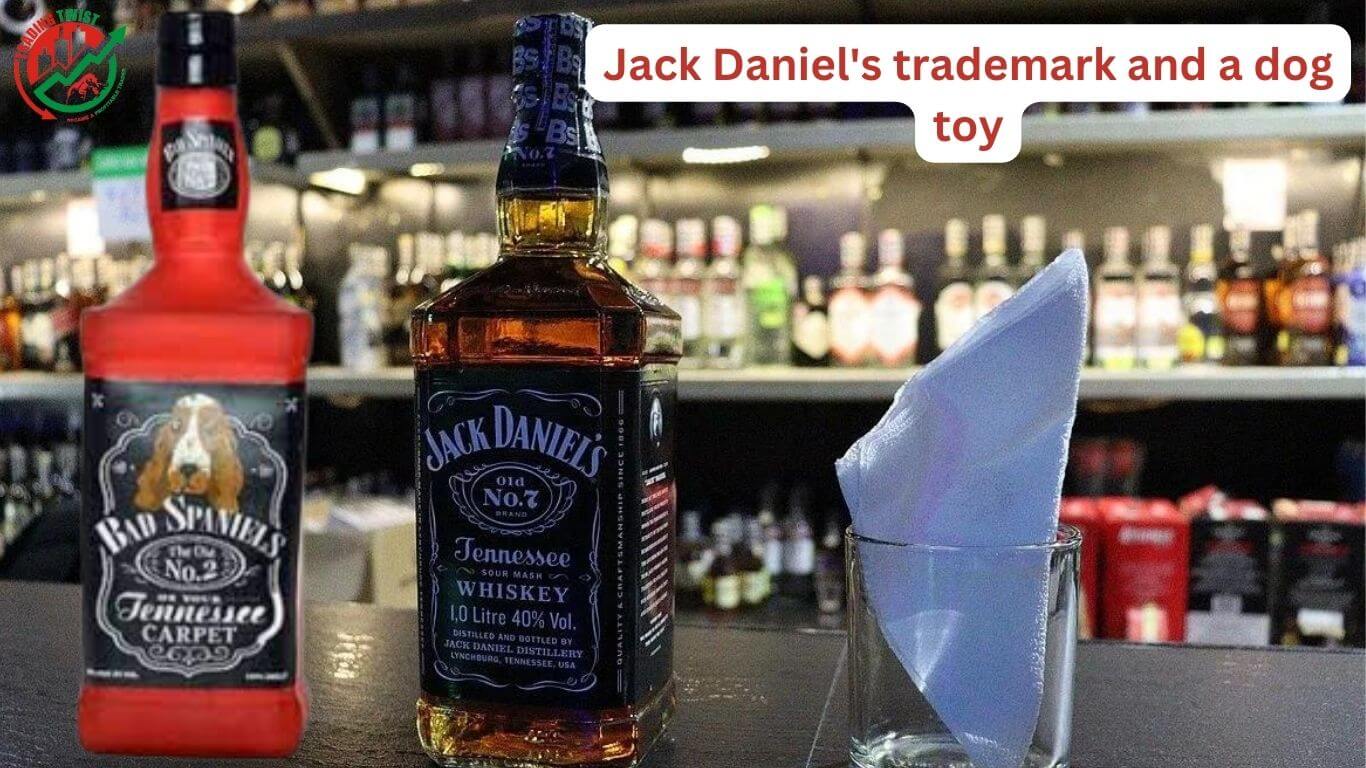 On Wednesday, the U.S. Supreme Court will hear a trademark dispute between Jack Daniel's and a dog accessory maker who created a spoof chew toy that looks like the distiller's well-known black-label whisky bottle.
In this case, a parody of Jack Daniel's Old No. 7 Tennessee whisky bottle with dog poop-themed changes, like a label, reading "the Old No. 2, on your Tennessee Carpet," by Phoenix-based VIP Products LLC, is at the centre of the legal dispute between the whisky brand's trademark rights and legal protections for creative expression.
A lower court's decision that the pun-filled "Bad Spaniels" vinyl chew toy qualifies as an "expressive work" protected by the U.S. Constitution's First Amendment is being appealed by Jack Daniel's Properties Inc, which is owned by Louisville, Kentucky-based Brown-Forman Corp (BFb.N).
Whether VIP Products should be protected from liability for purported harms its chew toy poses to Jack Daniel's by possibly deceiving consumers into identifying the product with the whisky producer or degrading the company's well-known trademark is at issue.
Business groups who support the 1866-founded whisky brand from Lynchburg, Tennessee, have said that the disagreement has significant implications for corporate America's capacity to protect its brands and reputations.
Chief legal officer at the Business
Courtney Armour, chief legal officer at the business association Distilled Spirits Council, declared: "This case is no laughing matter. Even apparently "humorous" knockoffs might lead consumers astray when it comes to the messages and goods that well-known alcohol beverage businesses support, despite the fact that this particular case features dog toys.
A group of 2,300 authors disagreed, arguing that a victory for Jack Daniel's may have a "catastrophic chilling effect" due to concerns that free speech might result in legal action.
The group stated in a brief submitted to the U.S. Supreme Court, "If the prospect of legal consequence hangs over the heads of writers, their fictional characters may no longer use iPhones, dine at McDonald's, or visit Disneyland."
In 2020, the 9th U.S. Supreme Court of Appeals in San Francisco upheld VIP Products' position on two different grounds. The Bad Spaniels toy may be protected by the First Amendment under the 9th Circuit's ruling that it was an "expressive work" and hence not infringing on Jack Daniel's trademark.
On this issue, the 9th Circuit sent the case back to a federal judge in Arizona for additional hearings with the directive to use a legal standard derived from a famous trademark dispute between actress Ginger Rogers and director Federico Fellini in 1989. The "Rogers test," which permits artists to properly use another's trademark when doing so has artistic importance to their work and would not overtly mislead customers about its source, was used by the judge in favour of VIP Products.
Conclusion
However, the 9th Circuit determined that VIP Product's use of Jack Daniel's trademark was noncommercial since it was done "to convey a humorous message" in addition to selling dog toys, protecting the distiller's distinctive mark.
The administration of President Joseph Biden supports Jack Daniel's petition.
By the end of June, a decision should be made.